« Atentado en Tel Aviv | Main | Apagón en los comentarios »
Enero 19, 2006
Bin Laden vuelve a aparecer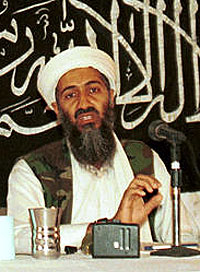 18.00
La cinta se grabó en diciembre, según Al Jazeera.
----
Osama bin Laden ha reaparecido después de pasar un año sin dar señales de vida. Al Jazeera informa que tiene en su poder una cinta de audio con un mensaje del líder de Al Qaeda en el que anuncia nuevos atentados en EEUU.
La cinta dura cuatro minutos. Bin Laden ofrece "una tregua" al pueblo norteamericano, pero al mismo tiempo amenaza con más atentados en ese país. Sus palabras no son nada alentadoras. Avisa a sus interlocutores que "vais a ver en vuestras propias casas" las operaciones terroristas. Al Jazeera:
"The new operations of al-Qaida has not happened not because we could not penetrate the security measures. It is being prepared and you'll see it in your homeland very soon".
Hay un par de referencias que sin ser temporales permiten sospechar que el mensaje se grabó en los últimos meses: critica a Bush por no hacer caso a las encuestas que reprueban la presencia de sus tropas en Irak y se felicita por la reaparición de los talibanes en Afganistán. Como mucho, son pruebas circunstanciales. No se puede saber en qué fecha Bin Laden decidió 'resucitar'.
El último mensaje conocido de Bin Laden se remonta a diciembre de 2004. Estos doce meses han sido el periodo más largo sin noticias sobre él desde el 11 de septiembre de 2001. La última imagen que se ha dado a conocer del líder de Al Qaeda es anterior: se difundió en octubre de 2004.
Desde entonces, ha sido el número dos de la organización terrorista, el egipcio Aymán Al Zauahiri, el que ha asumido la función de portavoz de Al Qaeda con varios mensajes.
Reuters ofrece esta cronología de mensajes difundidos por Al Qaeda en el último año:
2004:
Dec 27 - Al Jazeera airs a tape in which Bin Laden urges
Iraqis to boycott January's parliamentary elections and saying
anyone who takes part would be an "infidel". He also praises
attacks in Iraq by al Qaeda ally Abu Musab al-Zarqawi.
2005:
Feb 10 - Al Jazeera broadcasts audiotape attributed to
Zawahri in which he says Iraqi elections held under foreign
occupation are a sham.
Feb 20 - Al Jazeera broadcasts videotape in which Zawahri
says governments cannot stop al Qaeda attacks, and the security
of the West depends on respect for Islam and an end to
aggression against Muslims.
June 17 - Al Jazeera broadcasts videotape in which Zawahri
says reform and the expulsion of "invaders" from Muslim states
cannot happen peacefully. He says any reform must be based on
Islamic law and Muslim states should be free to govern
themselves without interference or the presence of foreign
troops.
Aug 4 - Zawahri warns Britons of more attacks, in the first
video to focus on Britain's policies. He also tells Britain and
the United States they will not have peace until they pull their
troops out of Iraq and other Muslim states.
Sept 19 - Zawahri says in a videotape aired on Al Jazeera
that Al Qaeda carried out the July 7 suicide bombings in London
to strike at "British arrogance". He denounces Britain for "the
historical crime of setting up Israel and the continuing crimes
in Afghanistan and Iraq".
Oct 23 - Zawahri urges Muslims in a video broadcast on Al
Jazeera to help Pakistan's earthquake victims even though its
government is an "agent" of the United States. He also denounces
Pakistani President Pervez Musharraf.
Dec 24 - Zawahri praises the Taliban in an audio tape aired
by Al Arabiya television, saying the Islamic movement still
controls large parts of Afghanistan.
2006:
Jan 6 - Zawahri says in a video aired that President George
W. Bush's plans to withdraw troops from Iraq meant Washington
had been defeated by the Muslims. He also criticised Islamist
groups, for believing in Western-style democracy and taking part
in elections.
Jan 19 - Bin Laden warns that al Qaeda is preparing new
attacks inside the United States, but says the group is open to
a conditional truce with Americans, according to an audio tape
attributed to him and aired by Al Jazeera.

Posted by Iñigo at Enero 19, 2006 04:07 PM
Trackback Pings
TrackBack URL for this entry:
http://www.escolar.net/cgibin/MT/mt-tb.cgi/4315
Listed below are links to weblogs that reference Bin Laden vuelve a aparecer:
» Chirac y su supuesto "pacifismo" y multilateralismo. from reflexionesdeunmodernista
En los meses previos a la intervención de los EE.UU en Irak los defensores de la no intervención atacaban a sus opositores refiriéndose a los siguientes puntos: al derecho internacional; a la ilegalidad e inmoralidad de los ataq [Read More]
Tracked on Enero 19, 2006 11:26 PM
Comments
Curioso que Ben Laden (porque Bin Laden es una transcipción errónea) no haya hecho una amenaza de las suyas grabadas en video, desde que se celebraron las elecciones presidenciales en EEUU, es decir, cuando se produjo la reelección de G.W.Bush. Cada día está más claro, que sacan al "demonio" cuando es necesario amedrentar y acallar a la opinión pública, sobre todo a la norteamericana.
Posted by: Mechanical at Enero 19, 2006 10:49 PM
A mí otra cosa que me sorprende siempre de las grabaciones de este hombre es lo cutres que son...
Yo en mi casa, con mi pc, un micro y mp3 puedo tener una calidad de grabación bastante mejor...
No tendrá un portátil Bin Laden? Ni nadie que lo sepa manejar???
En tiempos de Guerra no te puedes creer nada; y menos nada de lo que salga en los medios...
Posted by: uno_mas at Enero 26, 2006 02:35 PM
BUSH CONSPIRO CONTRA SU PROPIO PAIS Y ASESINO A SUS COMPATRIOTAS EN LOS ATENTADOS DEL 11-S..PARA QUE? PUES PARA TENER UN PRETEXTO Y PODER INVADIR IRAK Y HACERSE CON SU PETROLEO (cenit del petroleo)... NO ES TAN DESCABELLADO!! BIN LADEN ESTA MUERTO Y TRABAJO PARA LA CIA.. CURIOSO NO!!
ATENTADOS 11-M EN MADRID.. TERRORISTAS ISLAMICOS?? Y POR QUE NO SE INMOLARON EN NOMBRE DE SU CAUSA PARA IR AL PARAISO????... DIAS DESPUES TRAS DUDAS SOBRE ESTE HECHO, INMOLACION EN LEGANES MAS GRABACION CON ENCAMPUCHADOS.. PARA QUE CAPUCHAS??? NO IBAN A MORIR??, ERAN TERRORISTAS?? O UNA ESTRATAGEMA PARA APROBECHAR LOS SUPUESTOS ATENTADOS Y ACCEDER AL PODER???
Posted by: NEO at Abril 26, 2006 01:51 PM
Posted by: franklin at Abril 28, 2006 10:59 PM