« Los cimientos del Estado turco, en peligro | Main | El 11-S, según Oliver Stone »
Mayo 18, 2006
Bush, el pato sin piernas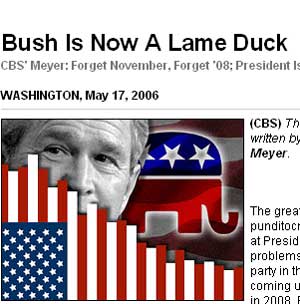 Si por presidir un país se entiende dirigir los asuntos públicos, ya se puede ir empezando a agradecer a Bush los servicios prestados. Dick Meyer, director editorial de cbsnews.com, no puede esperar más. Ha llegado el momento de conferirle el poco agraciado título de 'pato cojo':
Short of another disaster on the scale of 9/11, George Bush no longer has the power, credibility or ability to effectively govern for the rest of his term in office.
Crucemos los dedos.
Bush's realm of efficacy will be limited to areas where he can make unilateral decisions, mostly in war and foreign policy.
Eso es precisamente lo que nos preocupa.
Posted by Iñigo at Mayo 18, 2006 07:39 PM
Trackback Pings
TrackBack URL for this entry:
http://www.escolar.net/cgibin/MT/mt-tb.cgi/5638
Comments
pero que dice
mi no comprender la lengua del imperio
Posted by: un afalnabeto at Abril 10, 2007 05:04 AM