« Haditha: una tendencia | Main | Ráfagas »
Junio 02, 2006
Los muertos persiguen a los soldados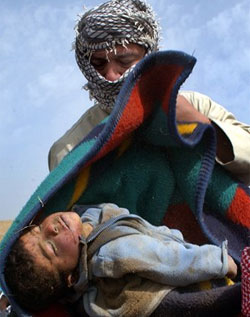 Versión militar:
El Ejército recibió información de que un miembro de Al Qaeda estaba escondido en una casa en el pueblo iraquí de Ishaqi, a unos 100 kilómetros al norte de Bagdad. En el enfrentamiento, en el que también participaron helicópteros, la casa, de una sola planta, se hundió. Cuatro personas murieron en su interior, incluidas dos mujeres y un niño.
Versión de la Policía iraquí:
Los muertos fueron once, incluidos cinco mujeres y cuatro niños. Sus cuerpos presentaban varios impactos de bala. La casa no quedó destruida en el tiroteo. Los propios soldados la dinamitaron para ocultar lo que había pasado.
Las fotos y unas imágenes obtenidas por la BBC confirman la segunda versión.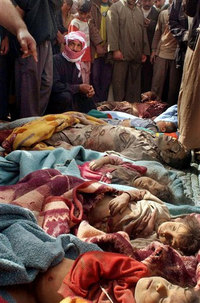 Más información:
La investigación militar ha llegado a la conclusión de que los soldados no violaron las normas. AP:
A military investigation into allegations that U.S. troops intentionally killed Iraqi civilians in a March raid in Ishaqi, a village north of Baghdad, has cleared the troops of misconduct, the military said Friday - despite dramatic video footage of slain children. (...)
Caldwell also acknowledged there were "possibly up to nine collateral deaths" in addition to the four Iraqi deaths that the military announced at the time of the raid.
----
La sentencia para el sargento Santos Cardona en el último juicio por Abú Ghraib: 90 días de trabajos forzados. Fue declarado culpable por dos de las nueve acusaciones que le llevaron a juicio. La pena máxima por esos dos delitos podría haber llegado a los 3 años y medio de cárcel.
----
Reuters ha hecho un recuento de algunos de los polémicos incidentes, la mayoría causantes de la muerte de civiles, en los que han participado las tropas norteamericanas en Irak.
BAGHDAD, June 2 (Reuters) - U.S. forces are investigating
whether Marines killed 24 Iraqi civilians at Haditha last year.
Here are some other incidents that have made headlines about
U.S. forces' treatment of civilians in Iraq:
April 28, 2003 - Troops of the 82nd Airborne Division open
fire as 100 or so demonstrators surround their base in the Sunni
town of Falluja. Officers said they returned fire against two
men with rifles and said up to 10 people were killed. The local
hospital put the casualty toll at 13 dead and 75 wounded.
Jan. 3, 2004 - Zaidoun Faleh Hassoun believed drowned after
U.S. soldiers pushed two men into the Tigris river at Samarra.
Two soldiers were sentenced to up to six months for assault.
April 28 - U.S. television broadcasts photographs of U.S.
soldiers abusing detainees in 2003 at Abu Ghraib prison. Several
military police, the most senior a sergeant, were jailed or
disciplined. Some cases go on. Commanders deny ordering torture.
May 19 - About 40 people killed in U.S. air strike on desert
encampment at Mogr al-Deeb in western Iraq. Denying local
accounts, including video footage, that the dead were innocently
celebrating a wedding, U.S. military insists most were foreign
Arab militants: "Bad people have parties too," a spokesman said.
Sept. 12 - Two U.S. helicopters fire rockets, killing at
least five people among a crowd around a crippled U.S. armoured
vehicle on central Baghdad's Haifa Street. Among the dead was
journalist Mazen Tomeizi, hit while speaking to his camera. At
first, the military said the pilots fired to destroy the Bradley
vehicle. Later they said they were responding to gunshots.
Nov. 13 - Unnamed corporal from 3rd Battalion, 1st Marine
Regiment filmed shooting apparently unarmed and wounded man in a
mosque. Commanders ruled he could have "reasonably believed" the
man and two others he shot in the mosque were hostile.
March 4, 2005 - U.S. soldiers at checkpoint kill Italian
agent Nicola Calipari as he escorts freed hostage Italian
journalist to Baghdad airport. Troops cleared of any wrongdoing.
June 25 - Mohammed al-Sumaidaie, 21, shot dead at home near
Haditha. His cousin Samir al-Sumaidaie, now Iraqi ambassador in
Washington, accuses Marines of "cold-blooded murder" but says
the military ruled that they acted in self-defence.
Oct. 16 - Iraqi officials in the restive Sunni city of
Ramadi say about 20 civilians, including children, killed in air
strike near wreck of U.S. vehicle. Military says 20 militants
killed when F-15 bombs group of men burying explosives in road.
Nov. 19 - Twenty-four Iraqis shot dead at Haditha. Marines
of Kilo Company, 3rd Battalion, 1st Marine Regiment first say 15
civilians killed by roadside bomb that killed a Marine and that
they shot eight guerrillas. U.S. investigators now say 24 men,
women and children were shot and seem ready to agree with locals
that Marines on a rampage killed them in three houses and a car.
March 15, 2006 - Police say six adults and five children
shot dead in U.S. raid on home in Ishaqi, north of Baghdad. The
101st Airborne Division says two women and a child died during
arrest of al Qaeda militant. Investigation was announced but
U.S. spokesmen were this week unable to say who conducting it.
March 18 - Iraqi police say U.S. soldiers shot dead a
13-year-old boy and his parents in their home in the Sunni town
of Dhuluiya, 90 km (55 miles) north of Baghdad, saying they were
among eight people killed after a U.S. patrol was ambushed. The
101st Airborne says troops killed seven "attacking terrorists".
April 26 - Iraqi man killed at Hamandiya, western Iraq. U.S.
military says investigating. U.S. media reports say Marines were
questioned about whether they took man from home and shot him.
May 4 - 101st Airborne Division says troops kill two men and
a woman after being fired on from house in Samarra, adding the
dead were involved in attack. Police name two dead women aged 60
and 20 and a mentally-handicapped man and say they were unarmed.
Relatives tell Reuters troops fired on them in a room.
May 30 - U.S. forces shoot dead two women in a car near
Samarra. Troops say driver ignored signs to stop. Relatives and
police say one of dead women was pregnant and going to hospital.
Posted by Iñigo at Junio 2, 2006 07:48 PM
Trackback Pings
TrackBack URL for this entry:
http://www.escolar.net/cgibin/MT/mt-tb.cgi/5855
Comments
Mi mayor desprecio por los crimenes cometidos por la soldadesca norteamericana. Creen que son impunes. Todos lo piensan. Tambien los iraquies que perpetran las matanzas se creen igualmente impunes. Pero ellos no son nuestros aliados ni hablan en nuestro nombre.
Posted by: pecha at Junio 6, 2006 01:23 AM
Espero que todas estas atrocidades salgan a la luz publica muy pronto. Para que vean la clase de "democracia" que el terrorista del Bu$h llevo a Iraq.
¿Donde están las armas de destrucción masiva que justificación la invasión del país, y la muerte de un millón de civiles inocentes?
Ya van a completar 5 años donde, ganaron la batalla, pero perdieron la guerra.
Posted by: Cesar S. at Enero 7, 2008 04:31 AM