« Traduciendo con los pies | Main | Cosas que hacer en sábado cuando no estás muerto »
Mayo 18, 2007
La reina del porno ya tiene candidato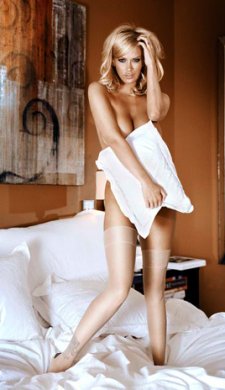 Me parece que Hillary no va a intentar rentabilizar en Alabama o Texas el apoyo entusiasta que le ha prestado la estrella del porno Jenna Jameson:
PR.com: Who's your favorite democratic front runner for 2008? Barack Obama, Hillary Clinton or John Edwards?

Jenna Jameson: I love Hillary. I think that in some ways she's pretty conservative for a democrat, but I would love to have a woman in office. I think that it would be a step in the right direction for our country, and there would be less focus on war and more focus on bettering society
.
De los republicanos, ni hablamos. Jenna dice que los años de Bill Clinton fueron los mejores para la
industria del porno
. Lógico. Pocas veces encuentras a un presidente tan dispuesto a mezclar el sexo con el trabajo. Por el contrario, los republicanos --dice la actriz-- siempre están jodiendo... en el otro sentido:
When Republicans are in office, the problem is, a lot of times they try to put their crosshairs on the adult industry, to make a point. It's sad, when there are so many different things that are going on in the world: war, and people are dying of genocide. It's sad that they feel that they have to target the sex industry, and not target the problems with insurance and the homeless and the AIDS epidemic. There are so many things that need to be cleared up before fucking pornography.
Before fucking pornography. Aprecio una ligera ironía.

Posted by Iñigo at Mayo 18, 2007 08:23 PM
Trackback Pings
TrackBack URL for this entry:
http://www.escolar.net/cgibin/MT/mt-tb.cgi/9074
Comments
Enlazando con tu post anterior, la frase "I love Hillary", dicha por una estrella porno y traducida literalmente, tiene su miga. No voy a decir morbo por que Hillary no es que me ponga mucho...
Creo que me voy a dar una duchita fria...
Posted by: Waterlord at Mayo 19, 2007 01:28 AM
Posted by: juan at Noviembre 15, 2007 12:16 AM
no pos mamacita yo queria ser el candidato para cojer bien sabroso pero bueno me ganaron hay paara cuando tengas hijas cojermelas bueno adios
Posted by: los de la ble at Noviembre 22, 2007 09:01 PM