« Maliki agita el fantasma de un golpe | Main | Me parto de la risa »
Junio 01, 2007
Lo que la CIA sabía de Cuba en 1966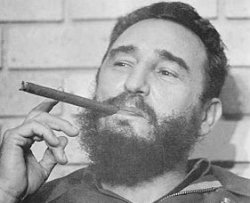 Para los interesados en conocer lo que la CIA sabía de la situación de Cuba a mediados de los sesenta, Secrecy News ofrece un informe (pdf) de la inteligencia norteamericana fechado en 1966.
The chances for a radical change in leadership in Cuba are remote. Castro has moved quickly and effectively against any potential threat to this position from within the regime and his security forces have been equally vigilant in subduing and eliminating any elements of resistance within the population. Barring Castro's death or disability, the present regime will maintain an unassailable hold on Cuba indefinately.
El informe, desclasificado el año pasado, describe las dificultades de la economía cubana, la dependencia de la ayuda financiera de la URSS y la evidente mejora de la situación sanitaria y educativa de la isla.
Cinco años después de Bahía de Cochinos, la CIA reconocía que la posición de Castro era lo bastante sólida como para mantenerse en el poder de forma indefinida.

Posted by Iñigo at Junio 1, 2007 12:35 AM
Trackback Pings
TrackBack URL for this entry:
http://www.escolar.net/cgibin/MT/mt-tb.cgi/9157