« Cosas que hacer en sábado cuando no estás muerto | Main | Ajuste de cuentas »
Junio 17, 2007
Ráfagas - 17 junio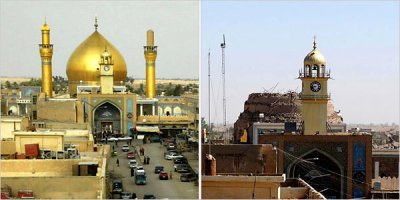 Decenas de miles de muertos separan estas dos imágenes del santuario shii de Samarra. A la izquierda, antes de la invasión de Irak; a la derecha, después del atentado de hace unos días. El Gobierno iraquí ha sido incapaz de proteger la mezquita cuya primera destrucción fue el detonante del actual enfrentamiento sectario.
--El Ejército norteamericano admite que no controla el 60% de Bagdad.
--La generosidad de Siria con los refugiados iraquíes contrasta con la de EEUU.
--La privatización de la guerra es ya irreversible en Irak:
The military plans to outsource at least $1.5 billion in security operations this year, including the three largest security contracts in Iraq: a "theaterwide" contract to protect U.S. bases that is worth up to $480 million, according to Scott; a contract for up to $475 million to provide intelligence for the Army and personal security for the U.S. Army Corps of Engineers; and a contract for up to $450 million to protect reconstruction convoys.
--Un 'geek' de las bombas, le llama Time: perfil de un fabricante de artefactos explosivos para la insurgencia.
--Un atentado talibán contra un autobús de la policía mata a 35 personas en Kabul.

Posted by Iñigo at Junio 17, 2007 02:28 PM
Trackback Pings
TrackBack URL for this entry:
http://www.escolar.net/cgibin/MT/mt-tb.cgi/9212