« Contra el terrorismo | Main | Pólipos insurgentes »
Julio 26, 2007
Desesperado
Inasequible al desaliento, Bush intenta meter miedo a sus compatriotas :
"Those who justify withdrawing our troops from Iraq by denying the threat of Al Qaeda in Iraq and its ties to Osama bin Laden ignore the clear consequences of such a retreat," Bush said. "If we were to follow their advice, it would be dangerous for the world and disastrous for America".
Sigue intentándolo, George: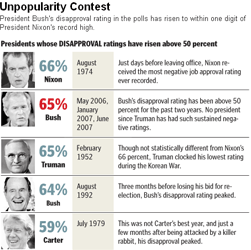 Hay una errata en este gráfico. No en la cifra de Bush, sino en la de Truman. Llegó a estar con un 67% de rechazo en los sondeos.

Posted by Iñigo at Julio 26, 2007 12:38 AM
Trackback Pings
TrackBack URL for this entry:
http://www.escolar.net/cgibin/MT/mt-tb.cgi/9326
Comments
¿Y el problema de Bush es...? No entiendo tanto bombo a una noticia sobre el índice de popularidad de un presidente que ya no puede renovar mandato y que, por tanto, poco le importa.
Posted by: Ottinger at Julio 26, 2007 01:21 AM
Hay un dicho que creo que resume tu postura, Ottinger, dice algo así como: "para lo que me queda en el convento, me cago dentro", con perdón, pues vaya.
Posted by: Juanete at Julio 26, 2007 08:59 AM
Y digo yo, ¿los americanos que tan orgullosos votaron a Bush son igual de impopulares, o se ha sumado al carro y ahora son, como todos los conversos, los peores enemigos del presidente?
Posted by: Rafael at Julio 26, 2007 09:47 AM