« El golpista accidental | Main | Cosas que hacer en sábado cuando no estás muerto »
Mayo 23, 2008
Todos somos de Zimbabue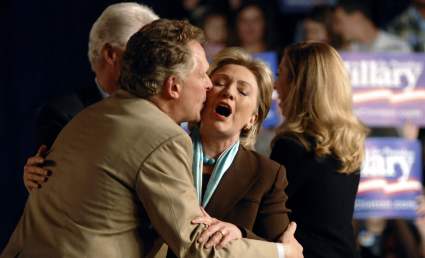 Clinton empieza hablando de los resultados anulados de las primarias de Florida y acaba relacionándolo con el fraude de las elecciones de Zimbabue.
"We're seeing that right now in Zimbabwe," Clinton explained. "Tragically, an election was held, the president lost, they refused to abide by the will of the people," Clinton told the crowd of senior citizens at a retirement community in south Florida.
Pobres jubilados.
----
Lo de Zimbabue no es nada comparado con recordar el asesinato de Bobby Kennedy en las primarias de junio.
"My husband did not wrap up the nomination in 1992 until he won the California primary somewhere in the middle of June, right? We all remember Bobby Kennedy was assassinated in June in California. I don't understand it," she said, dismissing calls to drop out.
¿Dando ideas?

Posted by Iñigo at Mayo 23, 2008 06:00 PM
Trackback Pings
TrackBack URL for this entry:
http://www.escolar.net/cgibin/MT/mt-tb.cgi/10005
Comments
Dudo que un jubilado en Florida sepa lo que es Zimbabue.
Posted by: Gutierrez at Mayo 23, 2008 09:29 PM
Siempre puede llegar algún redneck y pegar un tiro a Obama. Si mi marido ganó así...¿por qué no yo?
Nunca dejará de sorprenderme.
Posted by: Marlango at Mayo 24, 2008 03:24 AM