« Finales de la NBA | Main | El nuevo logo de BP »
Junio 01, 2010
El abuelo loco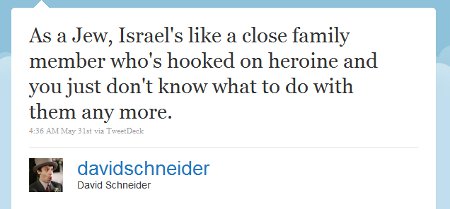 El actor británico David Schneider ve la crisis de la flotilla de Gaza de forma muy similar a la de muchos judíos por todo el mundo.
La adicción israelí es a la violencia. No hay problema que no se pueda solucionar con el uso de la fuerza. Si no es así, hay que aumentar la dosis de violencia.
Menos original y más dramático es el punto de vista de Amos Oz:
We are placing ourselves under an international siege, which is more dangerous for us than the siege on Gaza is dangerous to Gaza.

Israel is turning into South Africa in the Apartheid days – a country which the world's nation wouldn't want to buy its goods, wouldn't want to visit, and that will be thrown out of international organizations. We will become a pariah state that nobody wants anything to do with.
Posted by Iñigo at Junio 1, 2010 04:51 PM
Trackback Pings
TrackBack URL for this entry:
http://www.escolar.net/cgibin/MT/mt-tb.cgi/11682
Comments
La diferencia es, supongo, que Sudáfrica no le daba miedo a nadie ni tenía aliados importantes.

«I've travelled this old world of ours from Barnsley to Peru
I've had sunshine in the arctic and a swim in Tinbuktu
I've seen unicorns in Burma and a Yeti in Nepal
And I've danced with ten foot pygmies in a Montezuma hall
I've met the King of China and a working Yorkshire miner
But I've never met a nice South African.»
Posted by: Álvaro G. Vicario at Junio 1, 2010 11:22 PM
Tal vez algún día lleguemos a ese punto, por el momento parece que la tradicional amistad con Turquía, que ya venía muy tocada, se puede dar por finiquitada lo que ya es un buen avance hacia ese bloqueo internacional que tal vez algún día llegue a ser real.
Nunca se sabe.
Posted by: vktr81 at Junio 2, 2010 12:09 AM
Para que esas frases sobre Suráfrica se entiendan, hay que escuchar la canción. De Spitting Image, claro:
http://www.youtube.com/watch?v=v439zTOJVho
Posted by: Iñigo at Junio 2, 2010 12:40 AM