« El éxito de Suráfrica y sus beneficiarios | Main | Mandelson, príncipe de las tinieblas »
Julio 13, 2010
El gol de China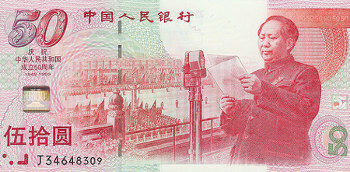 Si Zapatero y Rajoy dan en el Congreso las gracias a Iniesta por su gol del Mundial, que no se olviden de reservar parte del reconocimiento a China. El Financial Times informa hoy que China ha gastado cerca de 1.000 millones de euros en comprar deuda española.
China's State Administration of Foreign Exchange, or Safe, which manages the reserves under the country's central bank, was allocated up to €400m ($505m) of Spanish 10-year bonds in a debt deal last Tuesday, according to people familiar with the situation.

Safe had put in an order for about €1bn after demand rose to €14.5bn in a matter of a few hours last Tuesday. Mike Amey, portfolio manager at Pimco, said: "The fact big Asian investors are back in the market is a big vote of confidence for the eurozone. There was strong demand for the Spanish bond. It really helped sentiment."
Una subasta sumilar de bonos obtuvo un apoyo mínimo de los inversores asiáticos hace tan sólo seis meses.
Con un paraguas hecho en China, siempre va a parecer que llueve menos.

Posted by Iñigo at Julio 13, 2010 01:42 PM
Trackback Pings
TrackBack URL for this entry:
http://www.escolar.net/cgibin/MT/mt-tb.cgi/11748