« Rajoy, novillero | Main | Los guerreros de Team America »
Julio 16, 2010
Guantánamo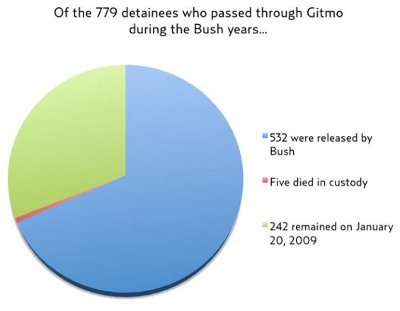 ¿Qué ha ocurrido con las 779 personas que han pasado por Guantánamo? Los números de Guantánamo, seleccionados por Mother Jones.
Con un coste astronómico, por cierto.
The grand total for base renovations, when operating costs and outlays for the top-secret Camp 7 are considered, is estimated at around $2 billion, which puts the per prisoner tally right now at about $11 million per prisoner. Even just considering the $500 million in capital expenditures detailed in the Post that's still $2.8 million per prisoner.
Posted by Iñigo at Julio 16, 2010 07:05 PM
Trackback Pings
TrackBack URL for this entry:
http://www.escolar.net/cgibin/MT/mt-tb.cgi/11754
Comments
Pues sí que les ha salido caro el hijo tonto de los Bush.
Posted by: Paco at Julio 17, 2010 03:45 AM