« Cosas que hacer en sábado cuando no estás muerto | Main | La tutela del Ejército »
Febrero 13, 2011
Defina ironía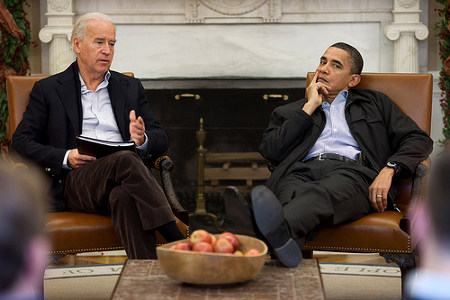 Joe Biden, vicepresidente de EEUU. 27 de enero.
Biden said that the democracy demonstrations that have sprung up in Egypt and Yemen since protests in Tunisia ousted President Zine El Abidine Ben Ali (...) weren't comparable to the popular uprisings in Eastern Europe that brought down the Iron Curtai (...) "Mubarak has been an ally of ours in a number of things and he's been very responsible on, relative to geopolitical interests in the region, Middle East peace efforts, the actions Egypt has taken relative to normalizing the relationship with Israel ... I would not refer to him as a dictator."
Joe Biden, tras la dimisión de Mubarak. 11 de febrero.
In his 52-minute speech before 1,200 people, Biden called for a transfer of power that respects "universal rights" of citizens and leads to democracy in Egypt. (...) He called revolution in Egypt "a pivotal moment in history. It's a pivotal moment in not only Mideast history but in history."
Foto de Pete Souza, del Flickr de la Casa Blanca.
----
Obama en junio de 2009: "Mubarak has been a force of stability and good in the region".

Posted by Iñigo at Febrero 13, 2011 02:53 PM
Trackback Pings
TrackBack URL for this entry:
http://www.escolar.net/cgibin/MT/mt-tb.cgi/12085