« El tiro de gracia para Irlanda | Main | Cosas que hacer en sábado cuando no estás muerto »
Abril 01, 2011
Capitalismo: instrucciones de uso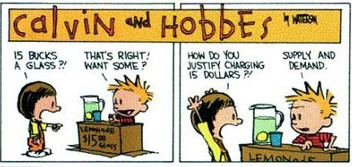 ¿15 dólares por un vaso de limonada? Sí, así funcionan las grandes empresas en el capitalismo, según este cómic de Calvin & Hobbes. Es de hace diez años, pero como si fuera de ahora. Sigue en The Big Picture.
Posted by Iñigo at Abril 1, 2011 09:40 PM
Trackback Pings
TrackBack URL for this entry:
http://www.escolar.net/cgibin/MT/mt-tb.cgi/12187
Comments
It looks like you are not able to differentiate capitalism from corporatism. No worries, it happens a lot. Thank God you gave us the link. At least The Big Picture is honest (they know what they are talking about).
Cheers
Posted by: Fritz at Abril 2, 2011 08:19 AM
I guess that corporativism is the higest stage of capitalism, isn´t it?
Posted by: Anonymous at Abril 2, 2011 10:58 AM
not the highest but the latest stage of the capitalism development. Oh wait, that could seem too marxist..
Posted by: Gorka at Abril 2, 2011 02:53 PM
Un clásico. La última viñeta lo dice todo... Gracias por recordarlo.
Gorka, in our times, just uttering "capitalism" marks you down as a "red".
Posted by: Olivo at Abril 2, 2011 05:49 PM
El ultimo estadio del capitalismo sobreviene cuando los bancos se quedan sin capital.
Posted by: Marcus at Abril 2, 2011 06:05 PM