« El anzuelo de la retirada | Main | El 'Climategate' en la cumbre: el ataque contra los científicos »
Diciembre 07, 2009
Grandes momentos en la historia del periodismo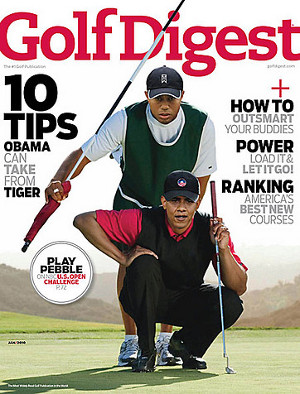 Para la revista Golf Digest, era la portada soñada para el número de enero. Tiger Woods y Barack Obama en la misma foto. En un campo de golf. Con Tiger haciendo de profesor particular del presidente. El titular estaba claro: "10 tips Obama can take from Tiger". Directo al kiosco y a vender revistas como churros.
Todo eso fue antes de que la mujer de Woods empuñara un hierro 3 (para la próxima vez, le han recomendado que use el driver) y el golfista (¿se dice así?) se estrellara con su coche. Trabajar con tanta antelación por razones de producción puede tener efectos desastrosos.
Todas las frases grandilocuentes del artículo han cobrado un cariz diferente. Por su comicidad.
And the magazine said Mr Obama could benefit from a Woods-like agility with image control, adding: "Tiger never does anything that would make him ridiculous."
Por lo que veo, el número de mujeres a las que se relaciona con Tiger Woods con razón o sin ella crece por momentos: ya van siete. Obama ya puede tomar nota.
Aún es mejor cuando te enteras de que la foto no era real (nos ahorramos aquí hablar de la postura), por lo que cuenta la propia revista.
First--and this seems obvious to us but may not be to them and you--the cover was not created after the Thanksgiving week accident. It was completed and closed well in advance of that, during the first week of November, and it went to press on November 14. Second, the cover was not a photo shoot with Woods and Obama. It was a photo illustration, based on a shoot with body doubles done in Los Angeles by photographer Martin Ellis. The fact that is looks like it might have been a photo is testament to the work of our Design Director Ken DeLago, Director of Photography Christian Iooss and Fashion Director Marty Hackel, who was on site for the shoot.
Y aún tiene el descaro de presumir de los meritos de los que han perpetrado el engendro.
El infierno de los periodistas está lleno de gente que dijo: no hay problema, utilizaremos el Photoshop. La pena es que no les queman en vida.

Posted by Iñigo at Diciembre 7, 2009 10:50 PM
Trackback Pings
TrackBack URL for this entry:
http://www.escolar.net/cgibin/MT/mt-tb.cgi/11295
Comments
La demostración de la sociedad americana, donde tienes que ser el deportista perfecto, el marido perfecto, no puedes tirar un papel a la calle porque si no cumples algo de lo anterior, quedarás denostado
Posted by: andr at Diciembre 13, 2009 10:00 PM