« Dejad la propaganda a los adultos | Main | La diana »
Mayo 16, 2007
Un día triste para los talibanes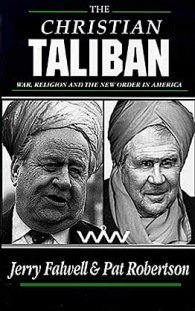 Dios ha castigado a Jerry Falwell por sus numerosos pecados. Dicho así, suena excesivo. A fin de cuentas, el reverendo ultraconservador ha fallecido y eso es algo que más tarde o más temprano le termina ocurriendo a todo el mundo, incluidas las personas de corazón puro. Pero el inspirador del concepto de la "mayoría moral" en EEUU (que ni era mayoría, al menos en todo el país, ni era moral) aplicó el mismo baremo cuando afirmó que el 11-S era un castigo divino por toda la depravación ocasionada por esa caterva de ateos, homosexuales, feministas y rojos de toda laya:
"I really believe that the pagans, and the abortionists, and the feminists, and the gays and the lesbians who are actively trying to make that an alternative lifestyle, the ACLU, People For the American Way, all of them who have tried to secularize America. I point the finger in their face and say 'you helped this happen.'"
Con el mismo buen rollo que caracterizó a Falwell no queda más que recordar ese anuncio que terminó convirtiéndose en el origen de un gran triunfo de la libertad de expresión en EEUU. Los que hayan visto "El escándalo de Larry Flint" sabrán a qué me refiero.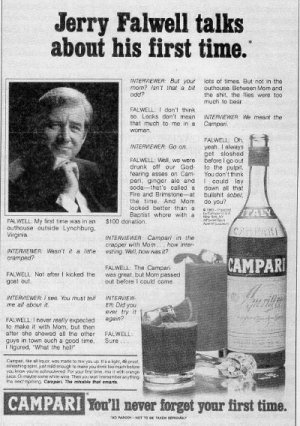 Aquí está la imagen ampliada del anuncio y su texto.
----

Si hay que elegir entre Dios y Christopher Hitchens, casi me quedo con el primero. Hitchens no ha matado a tanta gente con sus palabras, pero es mucho más pedante. Ahora bien, cuando quiere masacrar a los embaucadores que utilizan la religión para imponer a los demás sus ideas totalitarias, hay que reconocer que es claro y cristalino:
COOPER: Christopher, I'm not sure if you believe in heaven, but, if you do, do you think Jerry Falwell is in it?

HITCHENS: No. And I think it's a pity there isn't a hell for him to go to.

COOPER: What is it about him that brings up such vitriol?

HITCHENS: The empty life of this ugly little charlatan proves only one thing, that you can get away with the most extraordinary offenses to morality and to truth in this country if you will just get yourself called reverend. Who would, even at your network, have invited on such a little toad to tell us that the attacks of September the 11th were the result of our sinfulness and were God's punishment if they hadn't got some kind of clerical qualification?

People like that should be out in the street, shouting and hollering with a cardboard sign and selling pencils from a cup. The whole consideration of this -- of this horrible little person is offensive to very, very many of us who have some regard for truth and for morality, and who think that ethics do not require that lies be told to children by evil old men, that we're -- we're not told that people who believe like Falwell will be snatched up into heaven, where I'm glad to see he skipped the rapture, just found on the floor of his office, while the rest of us go to hell.

How dare they talk to children like this? How dare they raise money from credulous people on their huckster-like Elmer Gantry radio stations, and fly around in private jets, as he did, giggling and sniggering all the time at what he was getting away with?
Posted by Iñigo at Mayo 16, 2007 10:12 PM
Trackback Pings
TrackBack URL for this entry:
http://www.escolar.net/cgibin/MT/mt-tb.cgi/9058