« Llega el talonario | Main | "Un power point como Dios manda" »
Junio 19, 2007
El fracaso de Irak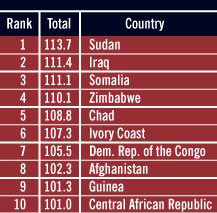 Por tercer año, la revista Foreign Policy y The Fund for Peace han elaborado el ránking de los 'países fracasados' (rogue states). Ésta es una clasificación en la que Irak continúa escalando posiciones. Ya está en el segundo lugar, por detrás de Sudán y por delante de Somalia, Zimbabue y Chad.
[Martes: Lobo apunta en los comentarios con razón que la expresión 'rogue states' se emplea habitualmente no con los países 'fracasados', sino con Estados autoritarios que son una amenaza a la paz mundial por su apoyo al terrorismo o por su intervención negativa en conflictos de países vecinos. Hay que recordar, por completar la definición, que también se aplica a los Estados a los que EEUU pone en su punto de mira, tipo 'eje del mal' para entendernos.]
Por cortesía de Think Progress, recordemos unas frases de Bush de julio del 2003:
A free Iraq will not destabilize the Middle East. A free Iraq can set a hopeful example to the entire region and lead other nations to choose freedom. And as the pursuits of freedom replace hatred and resentment and terror in the Middle East, the American people will be more secure.
Efectivamente, el odio, el resentimiento y el terror han abandonado Irak para siempre convirtiéndola en un ejemplo alentador para todos los países de Oriente Medio.
En el parte de bajas diario que ofrece la agencia Reuters, este lunes aparecen consignadas las muertes de 63 personas.

SAMARRA - A car bomb killed five Interior Ministry special forces personnel and wounded six others in the town of Samarra, north of Baghdad, police said.
BALAD - Gunmen killed two Iraqi soldiers when they ambushed a checkpoint near Balad, north of Baghdad, police said.
BAGHDAD - U.S.-led coalition forces killed at least 20 militants after coming under attack from Shi'ite gunmen during raids in southern Maysan province on Monday, the U.S. military said. An official in the office of anti-U.S. Shi'ite cleric Moqtada al-Sadr in the Maysan capital Amara said 17 members of his Mehdi Army had been killed and 45 wounded.
BAGHDAD - A U.S. soldier was killed by a roadside bomb while on foot patrol in the southern part of the capital, the U.S. military said on Monday. It did not make clear when the incident occurred.
FALLUJA - Two people were killed and 10 wounded by a truck bomb in central Falluja, 50 km (32 miles) west of Baghdad, the U.S. military said.
MOSUL - The bodies of three brothers were found outside Mosul, 390 km north of Baghdad, the police said. They had been shot.
BAGHDAD - Nine people were killed and 25 wounded when two car bombs exploded in quick succession as motorists queued for petrol in the southern Saidiya district of Baghdad, police said. Eight cars were set on fire.
NEAR BAGHDAD - Gunmen killed eight policemen when they attacked their convoy on Sunday on a road in the town of Mishahda, north of Baghdad, said police at a Baghdad hospital where the bodies were brought. Another police source said four policemen were killed and four wounded.
FALLUJA - Three people were killed and 15 wounded in a car bomb attack at a popular market in the Sunni Arab stronghold of Falluja, 50 km west of Baghdad, police said.
NASSIRIYA - At least four people were killed and 54 wounded in clashes between gunmen loyal to cleric Sadr and police in the southern Shi'ite city of Nassiriya, 375 km south of Baghdad, hospital and police sources said.
BAQUBA - Gunmen attacked the office of Mohammed Abid, a manager in the Diyala electricity station, and shot him dead in the city of Baquba, police said.
BAGHDAD - The bodies of five people were found in different districts of Baghdad on Sunday, police said.
BAGHDAD - U.S. forces detained 11 suspected insurgents during operations Sunday and Monday to disrupt al Qaeda car bomb networks in Baghdad and Haditha, the U.S. military said.

Posted by Iñigo at Junio 19, 2007 12:03 AM
Trackback Pings
TrackBack URL for this entry:
http://www.escolar.net/cgibin/MT/mt-tb.cgi/9218
Comments
A primera vista me extrañó que no estuviera Corea del Norte en el Top 10, y más tras leer los indicadores que han medido. Supongo que se debe a la poquísima información que se tiene sobre el cortijo de Kim Jong Il.
Posted by: Ikke Leonhardt at Junio 19, 2007 10:03 AM
Espera, que aquí estamos mezclando dos conceptos: Estados fallidos (failed states) con estados malvados/canallas (rogue estates). Nótese la diferencia:
http://en.wikipedia.org/wiki/Failed_states
http://en.wikipedia.org/wiki/Rogue_state
Los primeros incluyen aquellos países donde el aparato estatal se ha colapsado y el gobierno, si lo hay, no es capaz ni de imponer su autoridad ni prestar servicios a la ciudadanía.
Nunca he visto una traducción convincente de "rogue", pero era más o menos equivalente al concepto de "eje del mal" antes de que este fuera acuñado: Países que supuestamente desetabilizan la paz mundial promoviendo el terrorismo, acumulando armas estratégicas, etc.
Posted by: Lobo at Junio 19, 2007 10:06 AM
"Efectivamente, el odio, el resentimiento y el terror han abandonado Irak para siempre convirtiéndola en un ejemplo alentador para todos los países de Oriente Medio."
Efectivamente, que se lo digan ayer a los niños que se cargaron los yankees en Afganistán:
"«Las fuerzas de la Coalición creían que no había niños dentro o alrededor del recinto, y ordenaron el bombardeo pensando que el objetivo estaba en el interior», añadió el documento. Un portavoz del Ejército, Chris Belcher, lamentó la pérdida de «vidas inocentes» y se excusó por los hechos diciendo que no había «constancia de que hubiera niños en el edificio».-lamentamos la pérdida de vidas inocentes a consecuencia de la cobardía de los milicianos-, expresó Belcher."
No, si al final van a tener la culpa los niños por ir a la escuela durante la guerra, en lugar de quedarse en casa o tomar las armas como Dios manda.
Es lo que tiene la puta guerra, que si piensas en la sarta de hijos de la gran puta como el Chris Belcher que hay allí resulta que al final siempre mueren los que no tienen nada que ver. Pero no se preocupen que les estamos ayudando mucho.
Por cierto no he logrado información sobre el número de milicianos muertos junto con los niños en el bombardeo. A ver si va a tender a cero como me imagino.

Posted by: Marcus at Junio 19, 2007 03:37 PM