« Salvemos las moscas (después de las ballenas) | Main | La mancha negra »
Junio 18, 2009
Engañados por Kim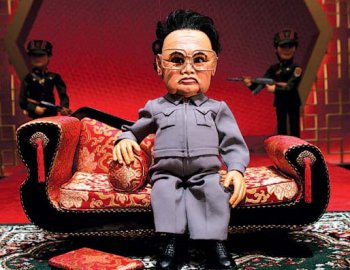 Las mayores instituciones del capitalismo continúan cubriéndose de gloria. Esta vez le toca a las compañías de seguros y el beneficiario de su incompetencia no es otro que Kim Jong Il.
North Korea reportedly has collected hundreds of millions of dollars from the world's largest insurance companies through fraudulent claims of warehouse fires, flood damage, transportation accidents and other disasters. Cloaking these claims in legal settlements via firms that did not disclose their losses, North Korea apparently was able to conduct a wide-ranging scam that provided it with hard currency despite scrutiny over state criminality from Western nations. "The exact scale of the fraud is hard to determine ... because the insurance industry has been so gullible," U.S. State Department investigator David L. Asher said.
Y estaban avisados. Sea un mito o realidad, la historia de los billetes falsos de 100 dólares tendría que haberles puesto en guardia. El Gobierno norcoreano siempre ha sufrido un agudo problema de divisas.

Posted by Iñigo at Junio 18, 2009 09:03 PM
Trackback Pings
TrackBack URL for this entry:
http://www.escolar.net/cgibin/MT/mt-tb.cgi/10943
Comments
Los tentaculos de Kim Jong Il son largos... muy largos. Y son tentáculos antiimperialistas, que llegan hasta sevilla. El comité local de Sevilla del PCE organiza una conferencia de exaltación.
Habla Alejandro Cao de Benós, el Tarraconense que hacia de anfitrión de Jon Sistiaga cuando grabó el documental sobre Corea del Norte.
Link. http://pcasevilla.wordpress.com/2009/06/11/conferencia-rpd-corea-un-pueblo-frente-al-imperialismo.
Posted by: Tom Joad at Junio 18, 2009 10:38 PM