« El ojo de Google sobre Basora | Main | ¡Santiago y cierra Cáceres! »
Enero 22, 2007
Haz que tengan miedo, mucho miedo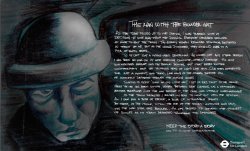 Thinking to myself, 'what an odd little man', I left my eyes drift to the ground. Where the man had been sitting, wedged between seat cushions, was a weathered leather briefcase. Like the man before it, the case was utterly unremarkable.

As the train departed I raised my head to look out upon the the station. All I saw was a rush of people, a blur of intangible ghosts. Yet there, in the middle, within the eye of the storm-unmoving and calm, was the man with the bowler. His lips parted to reveal the thinnest of smiles as my train departed towards the darkness.
Es un mensaje del Metro de Londres. Y, desde luego, no deje de utilizar nuestros servicios siempre que quiera. Estamos encantados de servirle.

Posted by Iñigo at Enero 22, 2007 12:30 AM
Trackback Pings
TrackBack URL for this entry:
http://www.escolar.net/cgibin/MT/mt-tb.cgi/8145