« El premio de Google | Main | 42 días en el limbo »
Junio 11, 2008
Un Ejército deprimido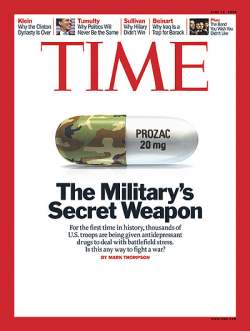 Las tropas norteamericanas van a la batalla cargadas de antidepresivos. Prozac Nation ya tiene su Prozac Army.
While the headline-grabbing weapons in this war have been high-tech wonders, like unmanned drones that drop Hellfire missiles on the enemy below, troops like LeJeune are going into battle with a different kind of weapon, one so stealthy that few Americans even know of its deployment. For the first time in history, a sizable and growing number of U.S. combat troops are taking daily doses of antidepressants to calm nerves strained by repeated and lengthy tours in Iraq and Afghanistan.
Aún más deprimidos se quedan estos soldados cuando descubren las pocas esperanzas que tienen sus compatriotas sobre el futuro del país en el que se están jugando la vida. El 61% cree que Irak nunca será una "democracia estable". Hace nueve meses los pesimistas eran el 53%. Los optimistas han bajado del 42% al 29%.
Joe, tómate otra pastilla.

Posted by Iñigo at Junio 11, 2008 09:20 PM
Trackback Pings
TrackBack URL for this entry:
http://www.escolar.net/cgibin/MT/mt-tb.cgi/10052
Comments
Esto es + biejo k 1 dia sin pan.
Posted by: Hobbes at Junio 11, 2008 11:44 PM