« Centuriones | Main | Un poco de sentido común »
Mayo 13, 2009
¿Por qué no hacen la prueba con Cheney?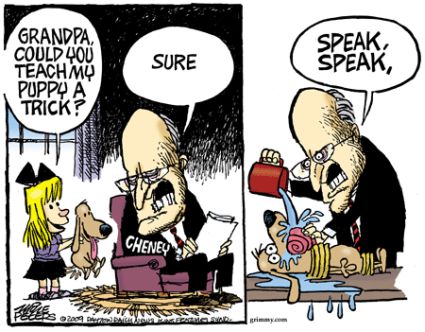 Hasta el bruto de Jesse Ventura tiene claro en qué consiste la tortura.
Jesse Ventura: I would prosecute every person who was involved in that torture. I would prosecute the people that did it, I would prosecute the people that ordered it, because torture is against the law."

Larry King: You were a Navy S.E.A.L.

Jesse Ventura: Yes, and I was waterboarded [in training] so I know... It is torture...I'll put it to you this way: You give me a waterboard, Dick Cheney and one hour, and I'll have him confess to the Sharon Tate murders.
Un teniente coronel del Ejército lo explica de otra manera al responder a un columnista neocon, uno de esos que continúa alimentando escenarios de fantasía para justificar la tortura:
I have friends who have been to SERE and instructed SERE students and acted as interrogators. All agree that waterboarding and other such 'enhanced' techniques are good for training (in a strictly controlled environment) our soldiers, sailors, airmen and Marines on what to expect in captivity. They also agree that it is torture to anyone outside that training environment. Finally, they all agree that torture rarely results in actionable intelligence, as the victim is willing to say most anything to end the torture.
SERE es el programa de adiestramiento que se llevó a cabo con militares, sobre todo pilotos, en los que se ponían en práctica técnicas de tortura para el caso de que los alumnos terminaran siendo capturados por el enemigo.
----
En un intento por destruir su reputación (una tendencia actualmente muy extendida entre los periódicos), el Philadelphia Inquirer ha contratado a John Yoo para que le escriba un artículo mensual. ¿Qué les habrá llevado a pensar que sus lectores están interesados en las opiniones de los criminales de guerra?

Posted by Iñigo at Mayo 13, 2009 12:03 AM
Trackback Pings
TrackBack URL for this entry:
http://www.escolar.net/cgibin/MT/mt-tb.cgi/10848
Comments
En resumen "la tortura no vale de una mierda". Tortura y dirán lo que tu quieras. Que bueno lo de Sharon Tate (pensándolo bien Cheney en aquella época, ejem...)
Y "la tira", me la llevo. XD
Posted by: nushu at Mayo 13, 2009 04:29 PM