« El monólogo de la política | Main | Historias de la América delirante »
Enero 11, 2011
Esperando a Alemania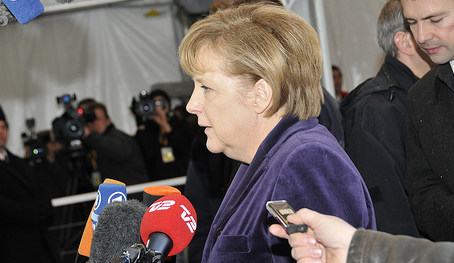 Europa no va a salir de la crisis económica y financiera a golpe de recorte del gasto público, dice el economista Nouriel Roubini. Muchas de esas medidas son necesarias. A fin de cuentas, los mercados financieros no van a seguir prestando dinero eternamente a países que llevan encima la sombra de la suspensión de pagos. Pero lo que es imprescindible es una estrategia de crecimiento que en estos momentos es inexistente.
Todos los países confían en salir de la crisis por arte de magia, sólo con un poco de paciencia y dejando correr el calendario. Eso no ocurrirá, dice Roubini, hasta que Alemania cambie de política:
Europe needs growth to prevent a disorderly collapse of the euro area. The stringent cost-cutting measures that the EU and the International Monetary Fund are imposing on countries such as Greece and Ireland are, in principle, the right way to get a handle on their debt. However, these measures also strangle an economy. Higher taxes mean people have less money to spend. If the government cuts spending it cannot make investments to stimulate growth. This creates huge difficulties for the governments concerned: If people cannot see the light at the end of the tunnel they will start to withdraw their support for reforms. In the interests of Europe as a whole, Germany should do all it can to bolster growth -- at home and in Europe. Germany should, therefore, postpone its austerity strategy.
Lo que pide Roubini a Alemania es lo que años antes se reclamaba a Japón. Fomentar el consumo en sus ciudadanos y no hacer depender todo el crecimiento de la exportación.
Even if domestic demand is now gathering pace, Germany must do more, such as liberalize the service sector and stimulate consumption. And this would kill two birds with one stone: it would reduce Germany's dependence on exports and cut its trade surplus, which causes other parts of Europe to slide further into the red.
Todas las discusiones en la UE sobre un nuevo mecanismo de rescates a partir de 2013 con condiciones diferentes le parecen absurdas a Roubini. El problema no es 2013, sino 2011, es decir, ya mismo. El ministro portugués de Hacienda ha dicho que su país no necesita un rescate masivo. Lo mismo que decía el ministro irlandés del ramo 48 horas antes tirar la toalla.
Y ya sabemos quién es el siguiente.
----
El editorial del Financial Times de hoy acaba así:
Doubts in the stronger eurozone members' willingness to help their partners through liquidity crises is not the only cause of market fears. Another is their failure to agree that states' exposure to private Iosses must be limited. The costs of the financial crisis are being born by everyone from citizens to shareholders - with one exception: senior creditors to private banks, treated as sacrosanct. The sovereign crisis will not end until this false religion is unmasked. That means Europe's leaders must open a new front. If they want financial peace, they must prepare for war.
En la pelea con los mercados, los lloriqueos a cuenta de los "especuladores" no sirven de nada. Incluso aceptando la metáfora bélica, hay que tener presente que en esa guerra el armamento consiste única y exclusivamente en dinero. Ingentes cantidades de dinero.

Posted by Iñigo at Enero 11, 2011 07:18 PM
Trackback Pings
TrackBack URL for this entry:
http://www.escolar.net/cgibin/MT/mt-tb.cgi/12027