« Lecciones de la transición española | Main | Cosas que hacer en sábado cuando no estás muerto »
Octubre 12, 2007
La cocina del eje del mal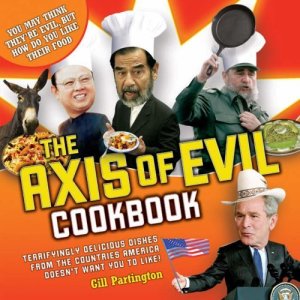 Si no te gustan las costillas hechas en la barbacoa al modo de Texas, éste es el manual que debes tener cerca de los fogones: "El libro de cocina del eje del mal".
When they're not actively attempting to develop weapons of mass destruction, 'Axis of Evil' countries such as Iraq, Iran and North Korea are busy enjoying their region's finest dishes. And their 'Axis of Somewhat Evil' cohorts, such as Cuba and Syria, are at it too. With over one hundred recipes, from soups and salads to meat dishes and desserts, this unique cookbook includes snapshots of each country as well as profiles of famous leaders. Regional recipes appear alongside dictators' favourite dishes - from Kim Jong-Il's ruthless appetite for shark fin soup to Saddam's celebrated rack of fresh roasted gazelle.
Es posible que la digestión de alguno de estos platos se haga algo pesada.
Hail to the chef!

Posted by Iñigo at Octubre 12, 2007 11:06 PM
Trackback Pings
TrackBack URL for this entry:
http://www.escolar.net/cgibin/MT/mt-tb.cgi/9482